I won't play music for m
I won't play music for my friend Monica. I don't want to harm Monica.
Directions
Pete and Larry had not seen each other in many years. Now they had a long talk trying to fill in the gap of those years by telling about their lives. Finally Pete invited Larry to visit him in his new apartment.
"I've got a wife and three kids and I'd love to have you visit us."
"Great. Where do you live?"
"Here's the address. And there's plenty of parking behind the apartment. Park and come around to the front door, kick it open with your foot, go to the elevator and press the button with your left elbow, then enter! When you reach the sixth floor, go down the hall until you see my name on the door. Then press the doorbell with your right elbow and I'll let you in."
"Good. But tell me...what is all this business of kicking the front door open, then pressing elevator buttons with my right, then my left elbow?"
"Surely, you're not coming empty-handed."
#joke
An eight-year-old kid swaggere
An eight-year-old kid swaggered into the lounge and demanded of the barmaid, "Give me a double Scotch on the rocks."
"What do you want to do, get me in trouble?" the barmaid asked.
"Maybe later," the kid said. "Right now, I just want the Scotch."

Incoming Projectiles
I was walking past a farm and a sign said 'Duck, eggs!'
I thought, "That's an unnecessary comma..."
And then it hit me.

Putting Out a Fire...by Fire
During an ecumenical assembly, a secretary rushed in shouting, "The building is on fire!"The Methodists prayed in a corner.The Baptists wondered where they could find water.The Quakers quietly praised God for the blessings that fire brings.The Lutherans posted a notice on the door announcing the fire was evil.The Roman Catholics passed the plate to cover the cost of the damage.The Jews posted symbols on the door in hopes the fire would pass.The Congregationalists shouted, "Every man for himself!"The Fundamentalists proclaimed, "It's the vengeance of God!"The Episcopalians formed a procession and protested.The Christian Scientists denied that there was a fire. The Presbyterians appointed a chairperson to form a committee to look into the matter and submit a written report.The secretary grabbed the fire extinguisher and put the fire out.
#joke
Top 10 Signs That It Is Time to Join E-Mailers Anonymous
10) You wake up at 3 am to go to the bathroom, and check your e-mail on the way back to bed.
9) Your firstborn is named Dotcom.
8) You turn off your modem and are suddenly filled with a feeling of emptiness, as if you just pulled the plug on a loved one.
7) You spend half of a plane trip with your laptop on your lap, and your child in the overhead compartment.
6) You decide to stay in college for an additional year or two, just for the free Internet access.
5) You find yourself typing ''com'' after every period.com.
4) You refer to going to the bathroom as downloading.
3) You move into a new house and decide to Netscape before you landscape.
2) You start tilting your head sideways to smile. : )
1) Immediately after reading this list, you e-mail it to someone.
#joke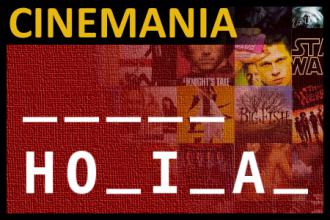 CINEMANIA: Guess the movie title
Film was made in 1953.
A man asked an American Indian
A man asked an American Indian what was his wife's name.
He replied, "She called Four Horse".
The man said, "That's an unusual name for your wife.What does it mean?"
The Old Indian answered, "It old Indian Name. It mean,
NAG, NAG, NAG, NAG!"
#joke
Chuck Norris once pulled out a...
Chuck Norris once pulled out a single hair from his beard and skewered three men through the heart with it.
Shhhh!
A Sunday school teacher asked the children just before she dismissed them to go to church, "And why is it necessary to be quiet in church?"
Annie replied, "Because people are sleeping."
Modern Science
Researchers say they've discovered a tree extract that could
help to prevent herpes...
.. Must be a rubber tree...
John Mulaney: Benchwarmer Humiliation
I played basketball for five years, and I was a benchwarmer all five years. If you were never a benchwarmer, I cannot express to you the humiliation of, every Saturday morning, putting on a pair of breakaway pants and never having a reason to break them away -- then theyre just pants.