Have a great time for
Christmas
, check out our latest
Christmas jokes of 2021
on:
Christmas jokes collection
To really spice up your resume
To really spice up your resume, include extra-curryculars.
A large two-engine train was c
A large two-engine train was crossing America. After they had gone some distance one of the engines broke down. "No problem," the driver thought, and carried on at half power. Farther on down the line, the other engine broke down, and the train came to a standstill.
The driver decided he should inform the passengers about why the train had stopped, and made the following announcement: "Ladies and Gentlemen, I have some good news and some bad news. The bad news is that both engines have failed, and we will be stuck here for some time. The good news is that you decided to take the train and not fly."
#joke
Back Together Again
My ex-girlfriend just told me she wants us to get back together again.
MAN, I sure am LUCKY!
I mean, first I win the lottery and now THIS!!!
Bill & Moe
Bill and Moe had started with only five hundred dollars between them, but they had built up a computer business with sales in the millions. Their company employed over two hundred people, and the two executives lived like princes.
Almost overnight, things changed. Sales dropped sharply, former customers disappeared, the business failed, and personal debts forced both into bankruptcy. Bill and Moe blamed each other for the troubles, and they parted on unfriendly terms.
Five years later, Bill drove up to a decrepit diner and stopped for a cup of coffee. As he was discreetly wiping some crumbs from the table, a waiter approached. Bill looked up and gasped.
"Moe!" he said, shaking his head. "It's a terrible thing, seeing you working in a place as bad as this."
"Yeah," Moe said with a smirk. "But at least I don't eat here."
#joke
Shack It to Me...in Heaven
A wealthy man died and went to heaven. He was met at the Pearly Gates by Saint Peter who led him down the streets of gold. They passed mansion after mansion until they came to the very end of the street. Saint Peter stopped the rich man in front of a little shack."This belongs to you," said Saint Peter."Why do I get this ugly thing when there are so many mansions I could live in?" the man demanded."We did the best we could with the money you sent us!" Saint Peter replied.
#joke
Who was it?
She left him on the sofa when the phone rang, and was back in a few seconds.
"Who was it?" he asked.
"My husband," she replied.
"I better get going," he said. "Where was he?"
"Relax. He's downtown playing poker with you."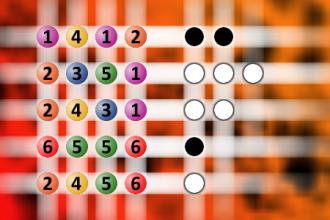 Which is a winning combination of digits?
The computer chose a secret code (sequence of 4 digits from 1 to 6). Your goal is to find that code. Black circles indicate the number of hits on the right spot. White circles indicate the number of hits on the wrong spot.
1. Put both lids of the toilet
1. Put both lids of the toilet up and add 1/8 cup of pet shampoo to the water in the bowl.
2. Pick up the cat and soothe him while you carry him towards the bathroom.
3. In one smooth movement, put the cat in the toilet and close both lids. You may need to stand on the lid.
4. The cat will self agitate and make ample suds. Never mind the noises that come from the toilet, the cat is actually enjoying this.
5. Flush the toilet three or four times. This provides a "power wash" and "rinse".
6. Have someone open the front door of your home. Be sure that there are no people between the bathroom and the front door.
7. Stand behind the toilet as far as you can and quickly lift both lids.
8. The cat will rocket out of the toilet , streak through the bathroom and run outside where he will dry himself off.
9. Both the commode and the cat will be sparkling clean.
Sincerely,
The Dog
#joke
Sister in law
I was happy. My girlfriend and I had been dating for over a year, and so we decided to get married.
My parents helped us in every way, my friends encouraged me, and my girlfriend? She was a dream!
There was only one thing bothering me, very much indeed, and that one thing was her younger sister.
My prospective sister-in-law was twenty years of age, wore tight mini skirts and low cut blouses. She would regularly bend down when quite near me and I got many a pleasant view of her underwear. It had to be deliberate. She never did it when she was near anyone else.
One day little sister called and asked me to come over to check the wedding invitations. She was alone when I arrived. She whispered to me that soon I was to be married, and she had feelings and desires for me that she couldn't overcome and didn't really want to overcome.
She told me that she wanted to make love to me just once before I got married and committed my life to her sister. I was in total shock and couldn't say a word.
She said, "I'm going upstairs to my bedroom, and if you want to go ahead with it just come up and get me." I was stunned. I was frozen in shock as I watched her go up the stairs. When she reached the top she pulled down her panties and threw them down the stairs at me.
I stood there for a moment, then turned and went straight to the front door. I opened the door and stepped out of the house. I walked straight towards my car.
My future father-in-law was standing outside. With tears in his eyes he hugged me and said, "We are very happy that you have passed our little test. We couldn't ask for a better man for our daughter. Welcome to the family."
The moral of this story is: Always keep your condoms in your car!
#joke
Talking Dog for Sale
A guy sees a sign in front of a house: "Talking Dog for Sale." He rings the bell and the owner tells him the dog is in the backyard.
The guy goes into the backyard and sees a black mutt just sitting there.
"You talk?" he asks.
"Yep," the mutt replies.
"So, what's your story?"
The mutt looks up and says, "Well, I discovered my gift of talking pretty young and I wanted to help the government, so I told the CIA about my gift, and in no time they had me jetting from country to country, sitting in rooms with spies and world leaders, because no one figured a dog would be eavesdropping. I was one of their most valuable spies eight years running.
The jetting around really tired me out, and I knew I wasn't getting any younger and I wanted to settle down. So I signed up for a job at the airport to do some undercover security work, mostly wandering near suspicious characters and listening in. I uncovered some incredible dealings there and was awarded a batch of medals. Had a wife, a mess of puppies, and now I'm just retired."
The guy is amazed. He goes back in and asks the owner what he wants for the dog.
The owner says, "Ten dollars."
The guy says, "This dog is amazing. Why on earth are you selling him, so cheap?"
The owner replies, "He's just a big liar. He didn't do any of that stuff."
#joke
The boss wondered why one of h...
The boss wondered why one of his most valued employees was absent, but had not phoned in. Needing to have an urgent work problem resolved, he dialed the employee's home phone number and was greeted by a child's whispered, "Hello."
"Is your Daddy home?" he asked.
"Yes," whispered the small voice.
"May I talk with him?"
The child whispered, "No."
Surprised and wanting to talk with an adult, the boss asked, "Is your Mommy there?"
"Yes."
"May I talk with her?"
Again the small voice whispered, "No."
Hoping there was someone with whom he could leave a message, the boss asked, "Is anyone else there?"
"Yes," whispered the child, "a policeman."
Wondering what a cop would be doing at his employee's home, the boss asked, "May I speak with the policeman?"
"No, he's busy," whispered the child.
"Busy doing what?"
"Talking to Mommy and Daddy and the Fireman," came the whispered answer.
Growing more worried as he heard a loud noise through the earpiece on the phone, the boss asked, "What is that noise?"
"A helicopter," answered the whispering voice.
"What is going on there?" demanded the boss, now truly apprehensive.
Again, whispering, the child answered, "The search team just landed a helicopter."
Alarmed, confused, and a little frustrated, the boss asked, "What are they searching for?"
Still whispering, the young voice replied with a muffled giggle..."Me!"
Chuck Norris once went skydivi...
Chuck Norris once went skydiving, but promised never to do it again. One Grand Canyon is enough.