Hungry novelists enjoy dinner
Hungry novelists enjoy dinner with all the fictions.
20/20 vision
She: "Honey, I don't like you with the new glasses on."
He: "But sweetheart, I don't wear any glasses."
She: "True, but I do."

Assignment Difficulty
An elementary school teacher decides to pole the class on the difficulty of last night's homework assignment:
How many people were able to complete the assignment without parents help?
About 25% of the class raises their hands. How many people we able to complete the assignment with the help of a parent? About 70% of the class raises their hand. The teacher still notices about 5% of the class did not raise their hands.
She then calls out, "How many people had to help a parent complete your assignment?
#joke
A Dollar for Sunday School
A little boy came home eating a big candy bar. Seeing the candy bar, his mother remembered he had already spent all his allowance money. Surprised, she asked him where he got it. "I bought it at the store with the dollar you gave me," he said."But that dollar was for Sunday School," his mother replied. Smiling, the boy said, "I know, Mom, but the Pastor met me at the door and got me in for free!"
#joke
Can you give me a push??
A man is in bed with his wife when there is a rat-a-tat-tat on the door.
He rolls over and looks at his clock, and it's half past three in the morning. "I'm not getting out of bed at this time," he thinks, and rolls over. Then, a louder knock follows.
"Aren't you going to answer that?" says his wife.
So he drags himself out of bed and goes downstairs. He opens the door and there is man standing at the door. It didn't take the homeowner long to realize the man was drunk.
"Hi there," slurs the stranger. "Can you give me a push??"
"No, get lost. It's half past three. I was in bed," says the man and slams the door. He goes back up to bed and tells his wife what happened and she says,
"Dave, that wasn't very nice of you. Remember that night we broke down in the pouring rain on the way to pick the kids up from the baby sitter and you had to knock on that man's house to get us started again? What would have happened if he'd told us to get lost??"
"But the guy was drunk," says the husband.
"It doesn't matter," says the wife. "He needs our help and it would be the right thing to help him." So the husband gets out of bed again, gets dressed, and goes downstairs.
He opens the door, and not being able to see the stranger anywhere he shouts, "Hey, do you still want a push??"
And he hears a voice cry out, "Yeah, please."
So, still being unable to see the stranger he shouts, "Where are you?"
And the stranger replies, "I'm over here, on your swing."
#joke
Recently a teacher, a garbage ...
Recently a teacher, a garbage collector, and a lawyer wound up together at the Pearly Gates. St. Peter informed them that in order to get into Heaven, they would each have to answer one question. St. Peter addressed the teacher and asked, "What was the name of the ship that crashed into the iceberg? They just made a movie about it."
The teacher answered quickly, "That would be the Titanic." St. Peter let him through the gate. St. Peter turned to the garbage man and, figuring Heaven didn't REALLY need all the odors that this guy would bring with him, decided to make the question a little harder: "How many people died on the ship?"
Fortunately for him, the trash man had just seen the movie and answered, "about 1,500." "That's right! You may enter." St. Peter then turned to the lawyer. "Name them."
FLEX WORDLE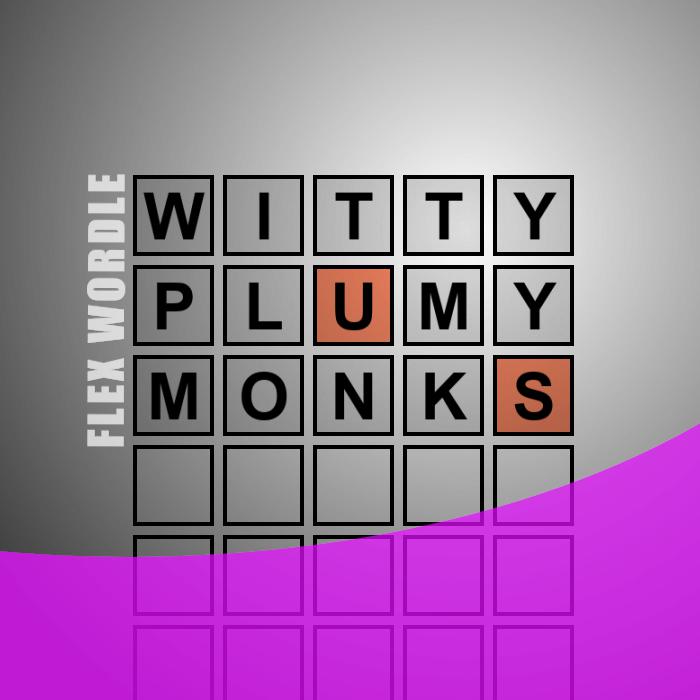 Guess the
WORDLE
in 3 tries. After each guess, the color of the tiles will change to show how close your guess was to the solution.
Chuck Norris once shot an enem...
Chuck Norris once shot an enemy plane down with his finger, by yelling, "Bang!"
Growing Wild
Here is this guy who really takes care of his body; he lifts weights and jogs five miles every day.
One morning, he looks into the mirror and admires his body. He notices that he is really sun tanned all over except one part and he decides to do something about it.
He goes to the beach, completely undresses and buries himself in the dand except for the one part sticking out.
Two little old ladies are strolling along the beach and one looks down and says, "There really is no justice in this world."
The other little old lady says, "What do you mean?"
The first little old lady says, "Look at that."
"When I was 10 years old, I was afraid of it."
"When I was 20 years old, I was curious about it."
"When I was 30 years old, I enjoyed it."
"When I was 40 years old, I asked for it."
"When I was 50 years old, I paid for it."
"When I was 60 years old, I prayed for it."
"When I was 70 years old, I forgot about it."
"And now that I'm 80, the damned things are growing wild!!"
#joke
Mike Birbiglia: Illiterate People
I shouldnt say bad stuff about illiterate people, though. I should write it.
Join us on WhatsApp