NED: Wh
NED: Why don't you like the official web sites for any cities in France?
ED: Because – they're the epitome of e-ville.
Big Night Out
Paddy is smashing a few at the local until everything is forgotten. The bartender who is also a family friend continually tells him he's had enough and to go home.
Finally after several last calls, Paddy declares "I'm going home", promptly falls off his high bar stool and drags himself to the door.
He hails a cab while face down on the curb, manages to open the door and drag himself from his sprawled position into the backseat. The cabby drives him home with Paddy singing nonsensical music to himself the whole way. Paddy rolls out of the cab manages to drunkenly flop his way across the lawn, gets the front door half open and passes out.
The next day because the bartender is also a good friend he checks on paddy, and seeing him lying on his back in the doorway says, "Paddy, you were drunk last night weren't you?". Paddy replies, "Yes, but I didn't think I was that drunk, how did you know?"
.
To which the bartender replies, "You left your wheelchair at the bar".
#joke
The train was about to pull ou
The train was about to pull out of the station. A young man ran towards it and managed to throw his bag in and climb aboard just in time.
A fellow passenger looked at him and said, "Young man, you should be in better shape! At your age, I could catch the train by a gnat's whisker and still be fresh. Look at you, panting away."
The young man took a deep breath and replied, "I missed this train at the last station."
#joke
Farm Work is Fard
Little Johnny: "Having a farm is really hard work."
Billy: "It's an ant farm Johnny, all you have to do is supervise."

How Do You Solve a Problem Like Maria?
A young man couldn't decide which girl to marry. He liked one girl, but he really liked another one named Maria, too. He decided to ask his friend for advice. "How do you make important decisions?" he asked his friend. "Well, I go to church," replied his friend. "Then I look up and pray and usually the answer just comes to me."The young man decided to try just that. He went to church, looked up to pray, and the answer was written in gold above a stained-glass window.It said: AVE MARIA
#joke
Will you marry me...
There were these two elderly people living in a Florida mobile home park. He was a widower and she a widow. They had known one another for a number of years. Now, one evening there was a community supper in the big activity center. These two were at the same table, across from one another. As the meal went on, he made a few admiring glances at her and finally gathered up his courage to ask her, "Will you marry me?"
After a dramatic pause and precisely six seconds of 'careful consideration,' she answered. "Yes. Yes, I will."
The meal ended and with a few more pleasant exchanges and they went to their respective places.
Next morning, he was troubled. "Did she say 'yes' or did she say 'no'?"
He couldn't remember. Try as he would, he just could not recall. Not even a faint memory. With trepidation, he went to the telephone and called her.
First, he explained to her that he didn't remember as well as he used to. Then he reviewed the lovely evening past. As he gained a little more courage, he then inquired of her, "When I asked if you would marry me, did you say 'Yes' or did you say 'No'?"
He was delighted to hear her say, "Why, I said, 'Yes, yes I will' and I meant it with all my heart."
Then she continued, "And I am so glad that you called, because I couldn't remember who had asked me."
#joke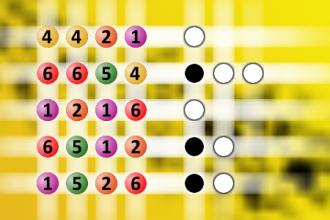 Which is a winning combination of digits?
The computer chose a secret code (sequence of 4 digits from 1 to 6). Your goal is to find that code. Black circles indicate the number of hits on the right spot. White circles indicate the number of hits on the wrong spot.
Little Nancy was in the garden...
Little Nancy was in the garden filling in a hole when her neighbor peered over the fence. Interested in what the cheeky-faced youngster was up to, he politely asked, "What are you doing there, Nancy?"
"My goldfish died," replied Nancy tearfully without looking up, "and I've just buried him."
The neighbor was very concerned. "That's an awfully big hole for a goldfish, isn't it?"
Nancy patted down the last heap of dirt then replied, "That's because he's inside your fricking cat."
#joke
Chuck Norris does not beg to d...
Chuck Norris does not beg to differ. Differ begs to Chuck Norris.
Second Honeymoon
The old couple were planning to go on a second honeymoon for their 50th wedding anniversary. The old woman said, "We will go to all the same places that we did on our first honeymoon."
"Uh huh," said the old man.
"We will do all the things that we did on our first honeymoon," said the old woman.
"Uh huh," said the old man.
"And we will make love like we did on our first honeymoon," said the old woman.
"That's right," said the old man, "except this time I get to sit on the side of the bed and cry, 'It's too big, it's too big!'"
#joke
Jessi Klein: You Look A Lot Like...
This co-worker of mine, who I dont know well at all, comes up to me and goes, Hey Jessi, I dont know if anyones ever told you this before, but you look a lot like Anne Frank. I didnt really know where to put that as a remark. But the worst thing is that my first thought was, Was Anne Frank hot?