A gynecologist had become fed
A gynecologist had become fed up with malpractice insurance and was on the verge of being burned out. Hoping to try another career where skillful hands would be beneficial, he decided to change careers and become a mechanic.
He found out from the local technical college what was involved, signed up for evening classes, attended diligently, and learned all he could.
When the time for the practical exam approached, the gynecologist prepared carefully for weeks, and completed the exam with tremendous skill.
When the results came back, he was surprised to find that he had obtained a score of 150%. Fearing an error, he called the instructor, saying "I don't want to appear ungrateful for such an outstanding result, but I was wondering if there had been an error which needed adjusting."
The instructor said, "During the exam, you took the engine apart perfectly, which was worth 50% of the total mark. You put the engine back together again perfectly, which is also worth 50% of the mark."
The instructor went on to say, "I gave you an extra 50% because you did all of it through the muffler."
#joke
Liver and cheese....
Three handsome male dogs are walking down the street when they see a beautiful, enticing, female poodle.
The three male dogs fall all over themselves in an effort to be the one to reach her first, but end up arriving in front of her at the same time. They're speechless before her beauty, slobbering on themselves and hoping for just a glance from her in return.
Aware of her charms and her obvious effect on the three suitors, she decides to be kind and tells them, "The first one who can use the words "liver" and "cheese" together in an imaginative, intelligent sentence can go out with me."
The sturdy, muscular black Lab speaks up quickly and says "I love liver and cheese."
"Oh, how childish," said the Poodle. "That shows no imagination or intelligence whatsoever." She turned to the tall, shiny Golden Retriever and said "How well can you do?"
"Um. I HATE liver and cheese," blurts the Golden Retriever.
"My, my," said the Poodle. "I guess it's hopeless. That's just as dumb as the Lab's sentence." She then turns to the last of the three dogs and says, "How about you, little guy?"
The last of the three, tiny in stature but big in finesse, is the Chihuahua. He gives her a smile, a sly wink, turns to the Golden Retriever and the Lab and says: "Liver alone. Cheese mine."
#joke
Kyle Kinane: Always a Miracle
Im in my 30s; everybodys having kids or miracles. Oh, its a miracle. Its always a miracle. Im like, You had sex, right? Yeah? Then no, thats exactly whats supposed to happen from that. I spend all my time preventing miracles; that is whats happening. I call it a miracle when the girl doesnt get pregnant. Thats when I start getting spiritual.
#joke
Saddam Hussein was not found h...
Saddam Hussein was not found hiding in a "hole." Saddam was roundhouse-kicked in the head by Chuck Norris in Kansas, which sent him through the earth, stopping just short of the surface of Iraq.
No Wool Downstairs
A husky foreigner, looking for sex, accepted a prostitute's terms.
When she undressed, he noticed that she had no pubic hair.
The man shouted, "What, no wool? In my country all women have wool down there."
The prostitute snapped back, "What do you want to do, knit or have sex?"
#joke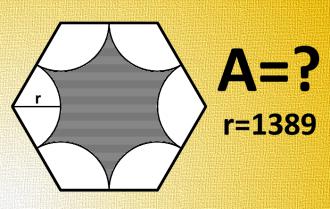 Find the area of the shaded region
Find the area of the shaded region accurate up to 3 decimal places. (A=?, r=1389)
Howard is 95 and lives in a se...
Howard is 95 and lives in a senior citizen home. Every night after dinner, Howard goes to a secluded garden behind the center to sit and ponder his accomplishments and long life.
One evening, Annabel, age 87, wanders into the garden. They begin to chat, and before they know it, several hours have passed. After a short lull in their conversation, Howard turns to Annabel and asks, "Do you know what I miss most of all?
She asks, "What?"
"SEX!!!"
Annabel exclaims, "Why you old fart, you couldn't get it up if I held a gun to your head!"
"I know," Howard says, "but it would be nice if a woman just held it for a while."
"Well, I can oblige", says Annabel, who gently unzips his trousers, removes his manhood and proceeds to hold it.
Afterward, they agree to meet secretly each night in the garden where they would sit and talk and Annabel would hold Howard's manhood. Then,
one night, Howard didn't show up at their usual meeting place.
Alarmed, Annabel decided to find Howard and make sure that he was O.K. She walked around the senior citizen home where she found him sitting by the pool with another female resident-who was holding Howard's manhood!
Furious, Annabel yelled, "You two-timing creep! What does she have that I don't have?!"
Howard smiled happily and replied, "Parkinson's."
#joke
Bless This Car
A rabbi, a priest and a minister have their houses of worship side by side, so they decide to carpool.
On the first day, the other two are shocked to see the pastor lay hands on the hood and pray silently.
"What are you doing?" the priest asks.
The pastor looks up. "I'm just dedicating the car to the Lord's service."
"Good idea! Be right back!" the priest exclaims, running into his church. He emerges with a bulb on a short stick, shaking water out of it onto the car.
The rabbi stares. "What are you doing?" he says.
"I'm consecrating it with holy water," the priest replies.
"Great idea!" the rabbi says, and runs into his synagogue's toolshed. He emerges with a hacksaw and takes off an inch of the tailpipe.
#joke